Quality accommodations near Suvarnabhumi Airport.
Fly to Bangkok Find Suvarnabhumi Suite.
SUVARNABHUMI SUITE IN BANGKOK,
THAILAND
​Located just 5 minutes from Suvarnabhumi Airport in Bangkok, Thailand, Suvarnabhumi Suite is the perfect hotel for travelers in transit. Here, you'll experience a superb stay with full-service conveniences at an advantageous location and for a very reasonable price. Our hotel offers more than a quiet accommodation before or after a flight. We take pride in exceeding our guests' expectations by presenting meticulously kept guestrooms and facilities, and efficient, top-notch service from our courteous staff. We've designed every aspect with your comfort in mind. Feel free to come in anytime and be welcomed by our 24-hour reception service. We've made sure that the rooms are always conducive to helping you get a good night's sleep in preparation for your exciting holiday.
For further information, please contact
Guests have a choice among 90 accommodations categorized in 4 room types. Our 15 Studio and 22 Deluxe Rooms all have a balcony. We also have 48 Superior Rooms. Our most spacious accommodation type is the Suite Room that comes with a floor area of 45 sq m. Such spaces exude a warm, private atmosphere with their wooden panels and furniture, glass windows and dividers, and use of dramatic lighting.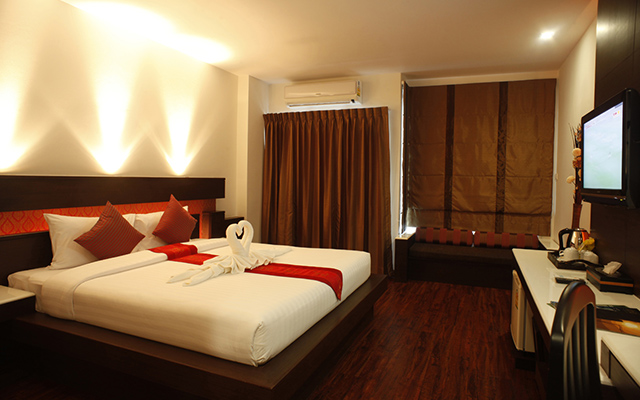 Superior Cube (No windows) Room size 28 Sqm., Hi-Speed Internet, Key Card Access, Spacious Balcony Maximum adults: 1 BOOK NOW Superior Cube
Services and facilities at the Suvarnabhumi Suite Hotel
​Located just 5 minutes from Suvarnabhumi Airport in Bangkok